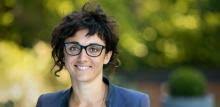 Giulia Andrighetto, PhD in Philosophy (2007), is the PI of the Laboratory of Agent Based Social Simulation (LABSS) within the Institute of Cognitive Sciences and Technologies (ISTC) at CNR.
Giulia's research examines the nature and dynamics of social norms, namely how norms may emerge and become stable, why norms may suddenly change, how is it possible that inefficient or unpopular norms survive, and what motivates people to obey norms.
To answer these questions and build cognitively grounded models of the emergence and change of social norms, she combine theoretical models with behavioral and simulation experiments.
Her work has been published in more than 70 publications in international journals, books and peer-reviewed conference proceedings. On the topic of social norms, she has recently published the book Minding Norms (Oxford University Press). She was awarded Ricercat@mente Prize for Best Italian researcher under 35 in the field of Social Sciences & Humanities, by the National Research Council and the Accademia dei Lincei in 2013.
She is the Principal Investigator for the ISTC-CNR unit of the H2020 European Project PROTON, aimed to understand the social, economic, and psychological factors that lead people into organised crime and terrorist networks.
She is the Principal Investigator of the Knut and Alice Wallenberg Academy project Norm Change (2017-2022), an interdisciplinary project to investigate how harmful social norms can be changed.